At Airspace, we know that your time-critical shipments need to arrive on-time and handled with precision. Historically, critical shipments have been mismanaged by the lack of transparency and speed within the industry and customers have come to accept this as the "industry standard." All too often, delays arise which cause re-routed and late packages resulting in decreased viability of an organ for transplant or medical specimen, canceled flights due to missing aircraft parts, or the loss of a life. To ensure a successful delivery, it's crucial to have ultimate visibility, unmatched speed, and a dedicated team behind the process.
Why Airspace?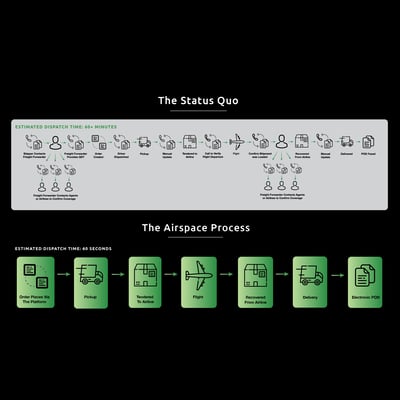 Airspace specializes in expedited freight and next flight out (NFO) deliveries for time-critical shipments. We serve many different industries including healthcare, aerospace, manufacturing, and more. Our team is passionate about providing the best technology, support, and service to our customers, and people are taking notice.
Explore the top five reasons why customers choose Airspace for all of their time-critical shipping needs:
Instant Price Quotes
Customers want full transparency throughout the shipping process, including upfront costs, which is why we offer instant price quotes. With Airspace, you'll receive a quote within minutes and have full visibility to the costs, avoiding any hidden charges. If you happen to change the route or type of service, take comfort in knowing we will automatically update the price so you're aware upfront.
Patented Technology
Airspace is proud to be the only time-critical logistics company to patent industry-changing technology. Our platform uses machine learning and AI to automatically quote, track, and update customers throughout the entire shipping process. Machine learning is the study of computer algorithms that improve automatically through experience. This helps our platform become smarter and more accurate the more data it collects. AI helps pinpoint the optimal route among thousands of flight options in a matter of seconds; something that couldn't possibly be done manually. This patented technology solves several common problems that plague manual shipment processing including accurate delivery time quotes, optimized routing and re-routing, and faster delivery times.
Real-Time Tracking
Airspace provides proactive notifications and real-time tracking, giving customers the ability to track a shipment down to a 3-foot radius and receive real-time alerts via their smart device. We utilize an array of tracking applications to offer data-driven notifications throughout the delivery process. Customers have complete transparency and are notified every time their package changes hands, from pick up to drop off.
Unrivaled Speed
We partner with highly trained and experienced drivers and can generate a quote and dispatch a driver in under 10 minutes. No other logistics company comes close to this. Our process gives a driver 90 seconds to accept an order, otherwise the delivery goes to the next best driver. Through machine learning, our platform is able to select the best driver based on their certifications, location, distance to the pickup address, and customer-specific vehicle regulations. This process allows Airspace to dispatch the most optimal driver within the 10 minute window for the majority of orders, making us the fastest in the industry.
24/7 Support Team
Airspace has a dedicated Operations team that is available to support our customers all day, every day. Our team of ops specialists have complete visibility on customer orders from start to finish and relentlessly evaluate data to adjust staffing levels, identify challenges early on, and prioritize steps for automation. All of this plays a role in improving the customer experience by boosting classic performance metrics such as on-time pickup and on-time delivery. Customers receive real-time communication and important information on their crucial shipments whenever they need it.
Our Process is Different
Our delivery process is significantly faster and more efficient than the status quo. Traditionally, the initial process of placing an order, receiving a quote and route information, dispatching a driver, and pick-up takes upwards of 90 minutes due to a lack of technology. At Airspace, we provide a quote, route, and dispatch a driver within mere minutes and the package is picked up within an hour of the order being placed. Backed by superior technology, customers receive real-time notifications via our online application as opposed to the manual, and time- consuming, communication of emails and phone calls.
If you're tired of the status quo, it's time to experience the Airspace difference for yourself. If you're interested in exploring our services, fill out the form below to schedule a demo today!