Having the ability to track the location of your deliverable shipments is a great advancement for modern shipping. Knowing where your packages are and their conditions helps to keep you in control of the process.
On-Asset tracking is the system of monitoring that provides real time cargo tracking, shipment monitoring, and 24/7 security. On-Asset tracking is beneficial to shipping companies and businesses who ship because it allows information to be relayed in real-time and not through milestone notifications. This means, instead of getting a lagging indicator that the driver tendered a package an hour after it happens, you'll be notified as soon as the package changes hands. A representation of how manual milestone updates creating lagging indicators can be seen in the side-by-side comparison below.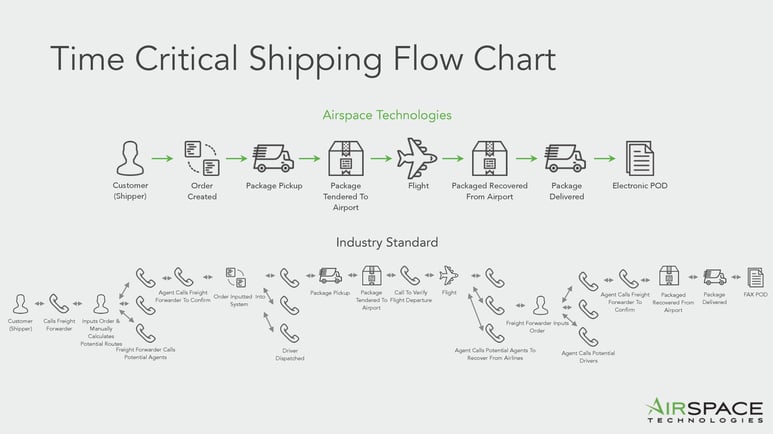 New applications that are being used in conjunction with logistics services are making this more commonplace. Leading the charge in time-critical shipment tracking is Airspace Technologies.
Airspace Technologies provides everything that you need to properly track all of your deliverables that are time-critical. Once you place your order, the data system goes into effect.
On the Airspace website, you enter your location of origin, your destination location, the reference information, additional details. The system provides you with the optimal path and the cost details that are based on your shipping requirements.
Throughout the process, Airspace sends real time updates to their system. Since these updates are available, you will have real-time information on the status of your shipment's location. All of the pertinent data concerning not only the whereabouts for your shipment, but also the condition that it maintains, can be at your disposal. In addition, email updates are sent out to you and provided for your convenience.
Airspace Technologies allows for the tracking of all of your time-critical shipments to be as easy as placing the delivery order itself. There will be no surprises that you won't know about.