Spring is officially here, but we still aren't clear from the stormy weather in certain areas around the United States. The weather plays a significant role in the successful deliveries of time-critical shipments. It helps to have stable conditions that are easy to adapt to in order to ensure a smooth shipping process. While there is no way to prevent unforeseen weather conditions from taking place, there are ways to continue transporting shipments experiencing delays. Many courier companies close down their operations and facilities in the event of a storm, however Airspace works relentlessly to assist those who are unable to send and receive their time-sensitive packages such as organs for transplant, medical specimens, and COVID-19 tests and vaccines.
Operating Through Stormy Weather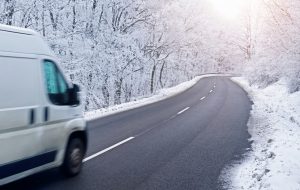 As a company that specializes in time-critical logistics, Airspace understands the crucial need for consistent and reliable service, regardless of the current conditions. With a platform driven by industry-first, patented technology, customers can have peace of mind knowing their shipment is in good hands.
But how are we able to operate during unusual and sometimes unforeseen weather conditions? The answer consists of two key factors: our network model and the technology.
The Network Model
Within the courier service industry, there are two types of network models: asset-based and non-asset-based. Asset-based carriers are typically logistics firms that own many or all of the assets necessary to run a client's supply chain. These assets can range from trucks, warehouses, and distribution centers. Whereas a non-asset-based carrier doesn't own anything physical, rather, they leverage other assets including drivers and flights through partnerships and contractors. Being a non-asset-based company gives Airspace the ability to be flexible when routing a delivery with options to reroute flights and drivers when necessary.
The Technology
Our technology-driven platform utilizes AI and machine learning to automatically quote, track, and update customers throughout the entire shipping process. Machine learning helps our platform become more accurate the more data it collects and AI pinpoints the optimal route among thousands of flight options in a matter of seconds. As the only company in the industry with its very own patented technology, we are able to quickly reroute hundreds of orders that experience delays through unruly weather conditions.
Our Commitment to Customers
At Airspace, our dedicated team works tirelessly to ensure the successful deliveries of your time-critical shipments. Having the ability to reroute packages in a matter of seconds and update customers via proactive notifications is crucial when presented with dire circumstances such as a storm preventing hundreds of shipments. Airspace provides that diversity and ability to choose a commander to drive through the night to deliver a package versus waiting for an early morning flight if it means an on-time retrieval. Severe weather conditions can cause major delays which result in decreased viability of an organ or medical specimen and potentially the loss of a life. Having a flexible vendor, such as Airspace, who can adapt to changing conditions including weather is important when delivering time-sensitive and precious packages.
Don't let weather conditions deter the success of your time-critical shipments, schedule a demo today!