At Airspace, we pride ourselves on our shipping technology and the amazing capabilities it possesses such as providing instant quotes, real-time tracking via geofencing for ultimate shipment visibility, and finding the most optimal route for your time-critical shipping needs while providing proactive notifications. However, without our team of dedicated Operations specialists, these shipments wouldn't be possible.
Airspace's Ops team works 24/7 to provide driver and customer support on each shipment to ensure every customer's experience is a good one. If your shipment has ever needed to be rerouted, our Ops specialists have been the ones to find the best replacement route – concurrently with our technology– so your package arrives on time. Not only are they dedicated and talented, but they also come with years of experience in the specific industries we serve.
Improving Customer Experience
Operations work to improve the overall customer experience in a number of different ways. For starters, our dedicated team of Ops specialists owns our customers' orders from start to finish, giving them intimate familiarity with each customer while providing a heightened level of service. Additionally, the Ops team relentlessly evaluates data to adjust staffing levels, identify challenges early on, and prioritize steps for automation. This all plays an important role in improving customer experience by boosting classic performance metrics such as on-time pickup and on-time delivery.
So your shipment is delayed and needs to be rerouted – who can help you? The Ops team is extremely well-equipped to help customers who experience delays for two main reasons:
The team has decades of experience moving time-critical shipments, and they use that experience in tandem with a customer-obsessed mindset to prioritize our customers at all times.


Our technology enables us to react to delays far quicker than anyone else in the industry; we are alerted the instant any published delay occurs and are often able to predict delays before they've been published. This provides the Ops team with a greater chance to reroute our customers' time-critical shipments with little-to-no impact on the final delivery time.
The proof is in the numbers. Airspace currently has over 50 Ops specialists with nearly 200 years of combined experience in the time-critical logistics industry, collectively. Roughly 70% of our specialists join Airspace with industry knowledge, averaging six years of prior experience. Our team has experience across multiple industries: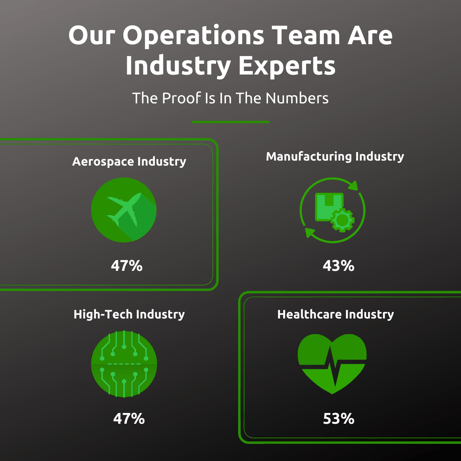 Commander Camaraderie
Given the experience our Ops team has, they're familiar with establishing working relationships with those who are responsible for transporting these time-critical shipments. At Airspace, we have more than just drivers – we have a network of highly qualified and skilled Commanders.
Our network of Commanders and Ops team share the same passion for providing our customers with the best service possible and they understand what's at stake when they receive an order. "Over the years, our most prolific Commanders have come to know much of the Operations team by name," said Ben Kozy, Chief Operating Officer of Airspace. "This mutual passion for the mission and desire to make a difference adds another layer between us and the competition," he continued.
Our Operations team is a very special group of people. Their industry expertise, passion, and dedication are part of what builds trust in our customers to continue choosing Airspace for their time-critical shipping needs. If you're interested in joining our team and making a difference, view our open positions and apply today.