The irony of the novel coronavirus is that it forces us into isolation at the exact moment that working together is most critical. The crisis means information is flowing in at a rate impossible for an individual to sort through.
Usually our most powerful tool for collaboration when faced with so much conflicting information is the Design Studio. These in-person workshops bring together our best minds to sort through the signal, generate ideas, and prioritize solutions. However, with social distancing measures in place, in-person workshops are not only impossible to pull off, they're unsafe!
The reality of these circumstances became unavoidable for our team last week as the gravity of the crisis rapidly escalated. By Monday it was clear that the plans in place for a typical workshop on Wednesday had to be put on hold. With only two days to pivot, a litany of critical issues on hand, and more than 20 people from across the organization set to attend, there were doubts that we could even pull one off.
Instead of crumbling under the pressure, our UI lead Brandy Reed put together a playbook any organization can embrace to get all the benefits of a design studio with none of the germs. To help other organizations in need, we are sharing the steps we took to put it on, the reactions of collaborators from across the organization, and tips to help you avoid the stumbles we encountered along the way.
To follow our guide you'll need
Video conferencing

Miro

Slack or similar instant messaging/group chat software

A few designated team leads

An engaged team willing to work with you
Steps
Do some kick-ass remote research, and get it ready for presentation

Prep your agenda, enlist team leads, and over-communicate what to expect

Prepare virtual full group and team-specific collaborative spaces

Walk your team leaders through a practice run

Game time
Step 1: Research and presentation preparation
Tools: SurveyMonkey, Slack video calls, Miro for card-sorting and analysis.
At Airspace design studios can go one of two ways. Sometimes we use them for discovery work, inviting leaders and contributors to share as much knowledge as they can about a problem. However, the nature of our business makes it nearly impossible to get everyone we need together in a room for more than two hours. To overcome these time limits, we like to conduct most of our discovery work up-front, then analyze it and present it to the rest of the group to get everyone on the same page.
Most research methods fit nicely into a digital workflow so we won't spend much time here. Surveys are a no-brainer. "In-person interviews" are just a calendar invite and a video call away. Once all the data is collected and transferred to Miro, analysis can still happen "out in the open" - just make sure you share links to the space where it's happening early.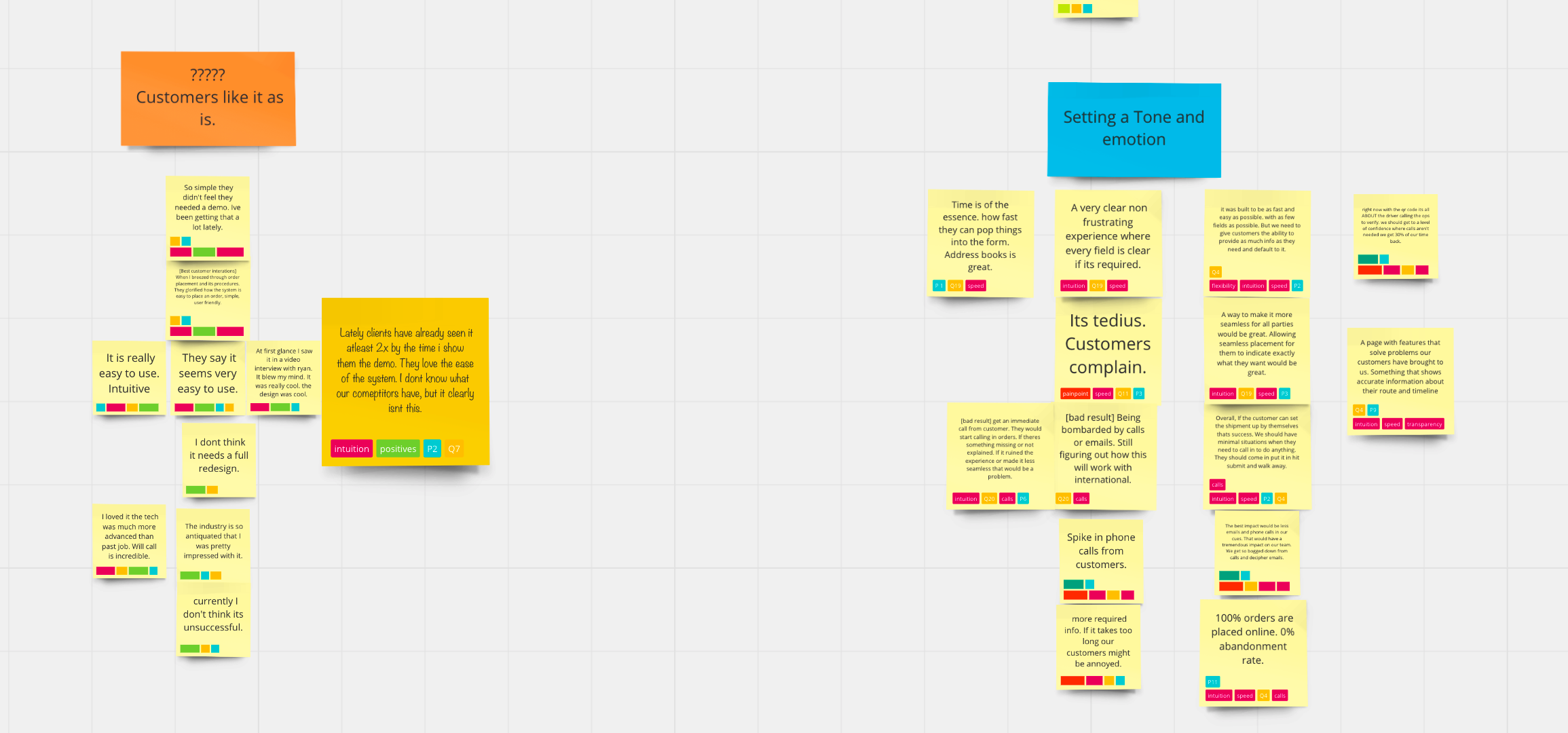 Miro allowed us to get all of the data points from our research into one common virtual space. Tagging sticky notes allowed us to filter and slice up information more efficiently than physical tools.
Tip from Zahid Patel, UX Designer:

We ran into some issues where we were both putting the same information from interviews into Miro. Agreeing up front to a strategy on where we were recording the info would have been a big help.
Step 2: Prep your agenda, enlist team leads, and over-communicate what to expect
Tools: Slack, Google Docs, Miro, video conferencing
At this stage that we realized the biggest challenge. Our most trusted design studio method is breaking our larger team down into small, multidisciplinary groups to generate and critique as many ideas as possible from different angles. This sort of meeting would be impossible on one big conference call!
To overcome this issue Brandy had the idea to break the mold of our typical one facilitator format and enlist every member of the design team in a facilitator role. Each facilitator was put in charge of a Slack channel, and it was their responsibility to prep their own video conference calls for the divergent part of the workshop.
Once we settled on the solution of multiple facilitators, we set an agenda, and made sure to over-communicate what was expected of every facilitator within our shared Miro board and private Slack channel.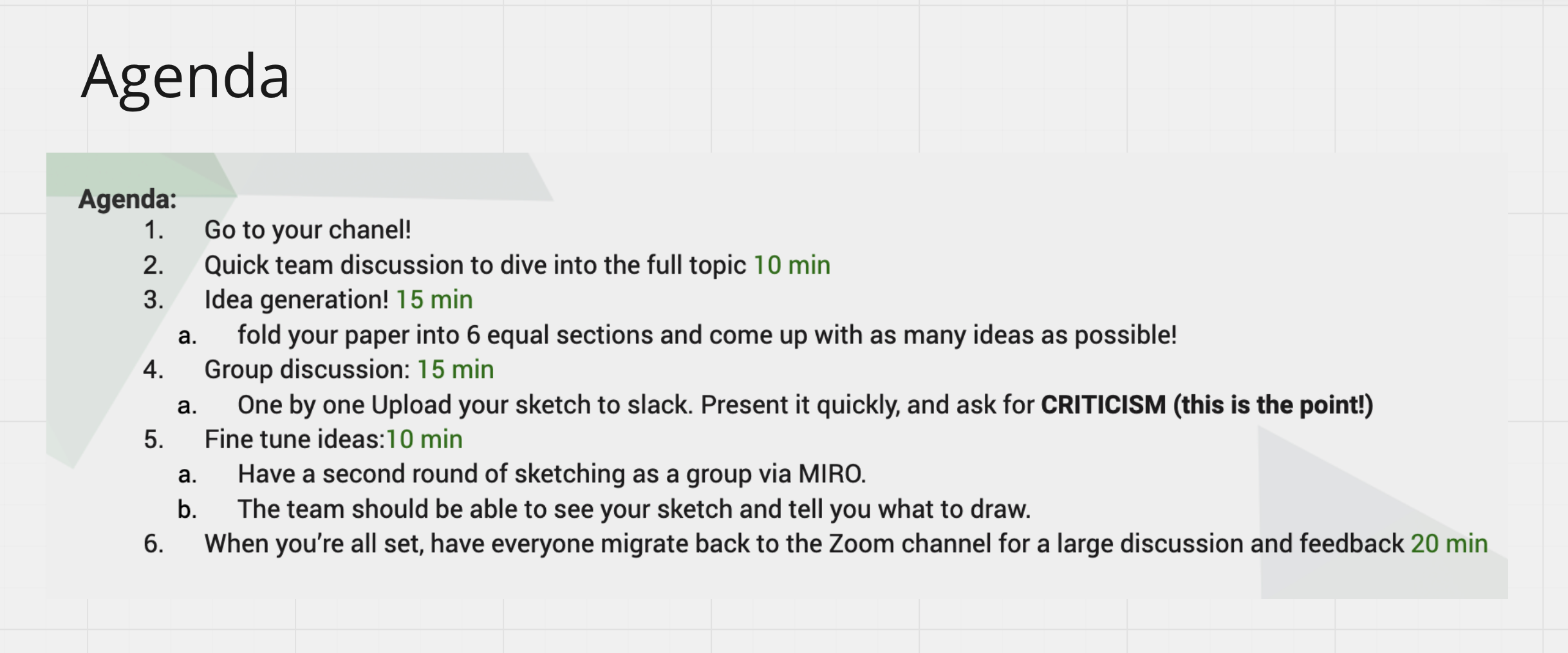 We prepped team leads with what to expect via stickied Slack messages, a video prep meeting, and an easily accessed section of the group Miro board.
Tip from Brandy Reed, UI Designer:

Virtual studios take longer than regular studios. I wish we had extended the meeting by half an hour to account for the extra time of moving between channels.
Step 3: Prepare virtual collaborative spaces
Tools: Zoom, Calendar invites, Slack channels, Miro
With the plan in place we had to make sure to get all the logistics locked down. We again made sure to communicate early and often.
We sent out a meeting invite with what to expect. Participants learned early they'd be using one Zoom link for the start of the meeting before jumping into another Zoom link for smaller group collaboration.
We prepped private Slack channels for each team and got each participant into their respective Slack channel. As an added bonus the Slack channels helped us remind our participants about what they could expect again (over communication!)

In Miro we prepped collaborative areas for each team. Within the collaborative space the teams had everything they'd need to remind themselves of the problem they were trying to solve.
Reaction from Rudy Laparra, Customer Success Manager

Breaking the groups up and targeting specific processes to collaborate on and present to the overall group was beneficial. On top of that splitting the group up with members in different departments is key.
Step 4: Walk your team leaders through a practice run
Tools: Conference call, Miro
A process with so many moving parts means lots of room for hiccups - especially with designers forced into facilitating for the first time. To minimize the risk we did a quick, condensed practice run. During the practice run we demonstrated how to direct teams to work under time constraints, to emphasize the value of diverging to generate lots of ideas, and stressed the importance of critiquing those ideas.
During the process, we also realized that the "problem" sticky notes that we prepared to guide discussion were not easy to follow, so we modified our Miro board's collaborative spaces to include key insights and a high level summary of the problem.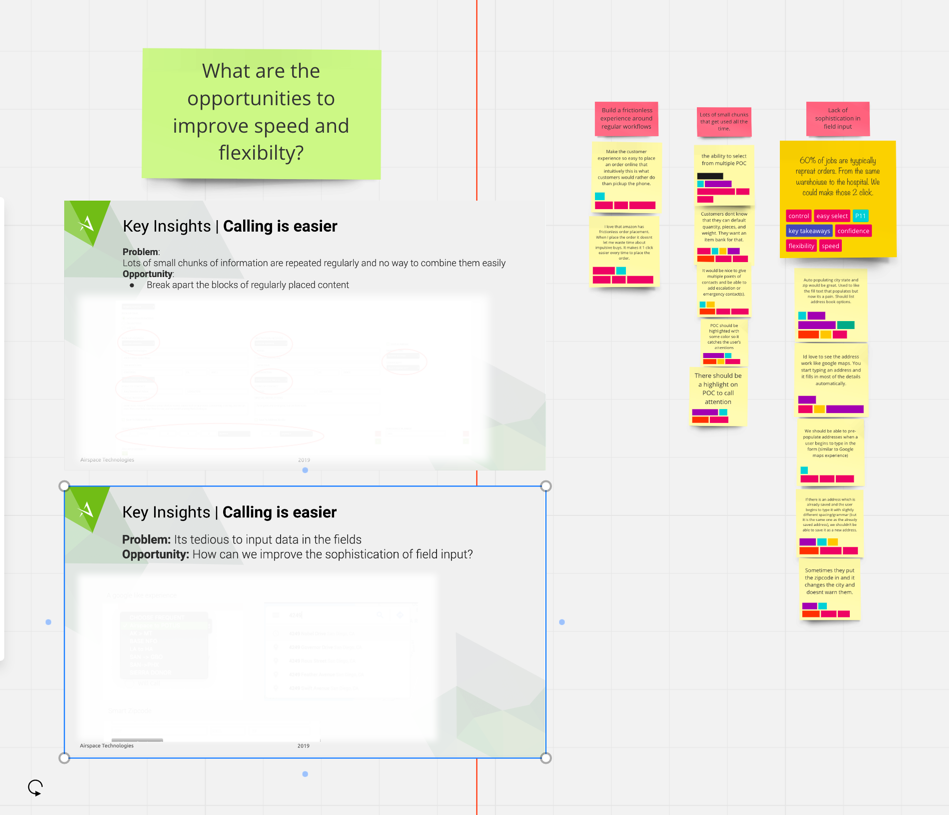 Step 5: Game time!
Tools: Conference call, Slack channels, markers and paper, phones to upload sketches, Miro
15 minutes before the meeting we made sure to remind all parties across each of our channels to prep their creation tools and get to the MAIN Zoom room in the meeting invite.


After allowing a few minutes at the start for everyone to handle crisis response, we got rolling with a standard Zoom meeting. Brandy's detailed deck and the group conference call allowed us to get all the research on the table early, get everyone on the same page, and make sure common questions were out of the way.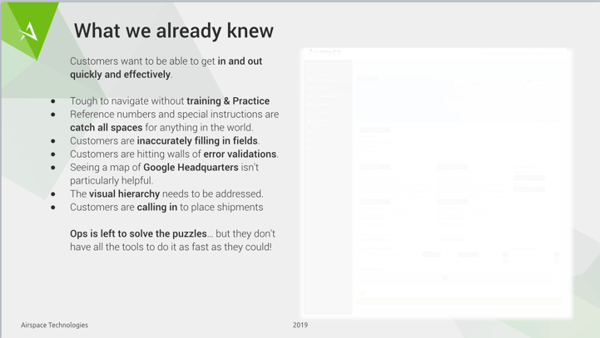 Well designed slides helped the team build a common understanding of the problem.
At the end of the presentation, Brandy reminded all team members of their assigned Slack channels, who their team leader was, and what they would be doing with their team.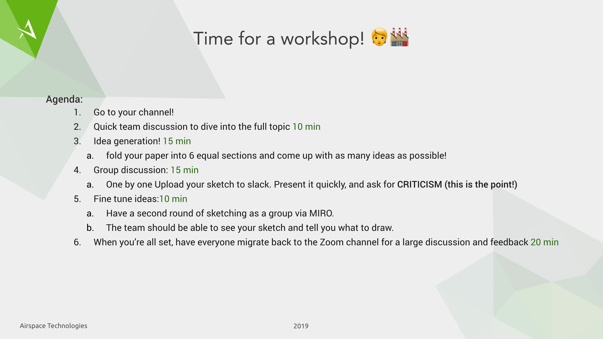 From there groups reassembled in their pre-assigned "Design Studio" Slack channels. Group leaders were quick to share links and get people into a new, smaller video call.

Once the groups assembled, leaders reminded their groups about their smaller design challenges, highlighted the specific problems to focus on, and encouraged their teams to sketch as many ideas as possible. Our facilitators shared their own screens so team members could have a common reference point while sketching.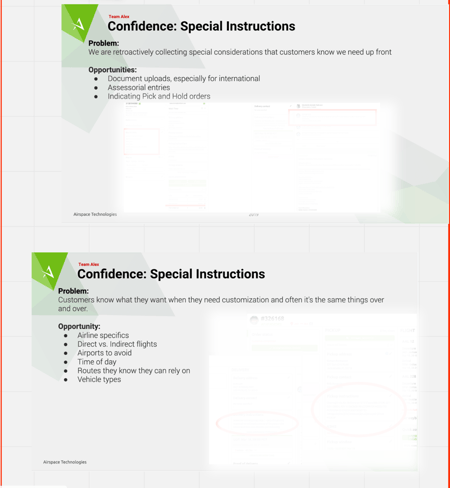 After an initial round of sketching, team leads directed their groups to upload photos of individual sketches to Slack. With the sketches uploaded, the team leads pulled up the sketches for everyone to see one at a time, then discuss.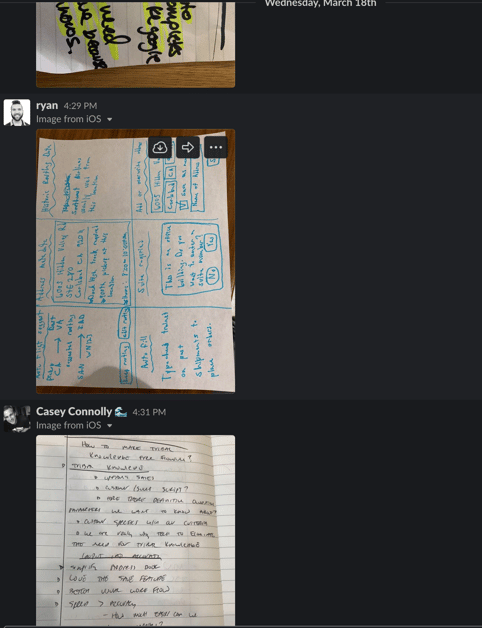 Team Slack channels filled up with ideas from designers, product, sales, and operations, as an added bonus the files are easily referenced later.
Once discussion was complete, designers moved back to Miro. With time tight the individual sketches came in handy and we all uploaded the photos as a starting point. From there we used Miro's sketching tools to expand on the best ideas as our teams helped us drill down to the most important concepts.

Teams ended up with intricate flows consisting of the original uploaded sketches and digital additions.
With collaborative sketching complete, team leads directed everyone BACK to the original Zoom link, where each group got the chance to explain and discuss the results of their sketch session.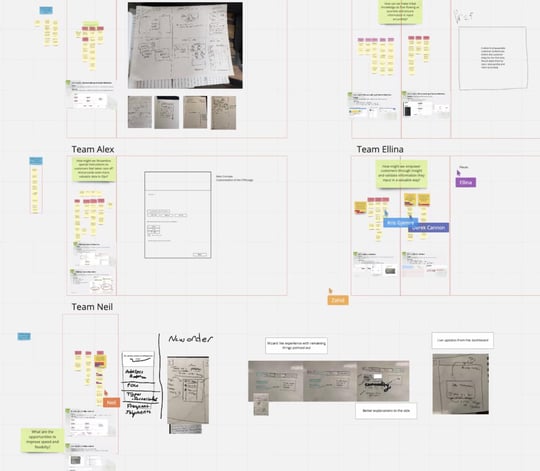 By the end of the demo each team completed a "wall" of digitized ideas. As an added bonus Zoom recorded each team's presentation for easy access later.
Reaction from Jon Rapp, Director of Sales

Bringing the groups back together after spending most of the time in small groups was a great way to get a lot of people synced up without having us trip over each other for the whole meeting.
Takeaways: Pros and Cons of Digital Workshops
In the end our workshop had some hiccups. It went a little longer than anticipated, and without one facilitator some groups spent significantly more time in the sketching phase than others. That said there were some astounding pros that became apparent over the course of the workshop.
Reaction from Ben Kozy, Senior Vice President of Operations

Integrating themes that stemmed from the sketching portion of the exercise into a presentable solution both made sense and highlighted consistent improvement opportunities.

The "Slack channels" were a clear success, and helped us collect and digitize more ideas than in a standard meeting. With all the ideas uploaded we will be able to move them into new digital formats such as surveys much faster than normal. On top of that the intimate nature of discussions in the smaller channels was far less harried than when groups are looking around at each other in real life, concerned about "winning" or moving fast, and less about the true spirit of generating lots of ideas.
Reaction from Swarupa Ellamaraju, Director of Product

I was very skeptical of the virtual design studio. Brandy and Neil proved me wrong. They pulled off this amazing feat in a short time. This opens up a world of possibilities for including diverse ideas and perspectives in ideation now that we are no longer constrained by physical proximity!
After the meeting we created a list of areas we would improve next time. Hopefully these ideas will help you with your own rapid fire digital design workshops. We'll definitely be running more as we continue to innovate through the crisis.
For next time:
"Having an agenda was great. but if we had some type of group timer which went off after every change in agenda, that could be super beneficial to not only keeping your group on track, but also ensure all groups are progressing through the activities at the same instances" - Zahid Patel, UX Designer
"It was difficult to share the Miro board and look at what we both wanted to see at the same time. Next time I'd just share the link to the Miro board for anyone interested in addition to sharing my screen during the sketching." - Alex Panganiban, UX/UI Designer
"I had quite a few cards in my group, that were touching various small elements. My eyes were jumping from one card to another all the time. For the future, I think that I'd break it down into smaller chunks or allow for more time." - Ellina Lapina, UI Designer
"We wound up reiterating the plan with the design team at the last minute. I'd recommend doing the practice run way in advance to make sure all the kinks are worked out." - Brandy Reed, UI Designer and workshop leader