By 2036 the Aerospace industry is projected to grow between $7.1 to $7.9 Trillion. An estimated $6.1 Trillion (77%) is slated towards manufacturing new aircraft orders, and $1.8 Trillion (23%) is forecasted for Maintenance, Repair, or Overhaul (MRO) activities.
Airbus and Boeing are projecting that the fleet of both passenger and freighter aircraft will grow at an annual rate of 4.4% to 4.9%. This growth will increase the current number of aircraft from 23,000 to 47,000, by 2036. Airbus and Boeing are calculating that an estimated 35,000-41,000 new aircraft will be manufactured to meet the annual growth rate and obsolescence of older units.
Depending on the variant of the aircraft, the number of parts required to manufacture an aircraft changes significantly. A small executive jet may require several hundred thousand parts, or a large commercial jet could exceed six million parts. For Airbus and Boeing to build 41,000 new aircraft, one could reasonably estimate that over 140 Billion parts will be required. (A floor of 16 Billion & a ceiling of 246 Billion parts)
In order for aerospace companies to keep up with the anticipated annual growth, suppliers will need to reduce their manufacturing costs and find a way to expedite parts faster. The solution: take advantage of the growing fleet of passenger aircraft and utilize global Next Flight Out (NFO) routings. Aerospace manufacturers have a unique opportunity to take advantage of a solution that they have created: the lower-deck cargo capacity of a passenger aircraft. The International Air Transport Association (IATA) reports that airlines are currently only utilizing an estimated 46% of available cargo space on passenger aircraft.
An NFO strategy can yield organizations significant benefits including transportation cost savings, improved velocity to deliver parts faster and flexibility to ship and receive orders during all hours of operation. Airlines are eager to assist with opportunities to gain revenue by expediting aerospace parts. So why are aerospace manufacturers reluctant to take advantage of NFO routings?
Perhaps the most significant deterrent would be previous attempts to proactively manage a shipment throughout the transportation process has been challenging. For aerospace companies to take advantage of the glut in passenger aircraft cargo, they need to have a robust process to properly manage the flow of materials all the way from the origin to the destination in a seamless manner.
Fortunately, Airspace Technologies has created an easy-to-use, web-based platform that allows aerospace manufacturers an opportunity to monitor a shipment moving on passenger aircraft accurately. Ryan Rusnak, Co-Founder & CTO at Airspace, presented our tech-enabled solutions at the IATA World Cargo Symposium in March of 2018.
Watch Ryan Present At IATA World Cargo Symposium
As you can see in the picture, shown below, IATA members gathered, at the end of the conference, around Ryan to inquire more about Airspace Technologies and how our technology created a solution to seamlessly integrate passenger airlines and a courier ground network for a user-friendly and reliable service for shippers.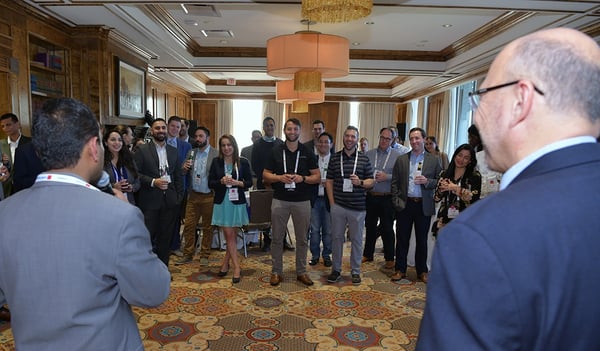 A few of the features that Airspace Technologies provides include:


A digitally integrated, ground and air expedited transportation network, designed for time-critical logistics.


Automated data analysis of fastest origin-to-destination routes, taking into consideration real-time traffic conditions and an estimated 25,000 daily domestic flights.


An internet accessible "live" visual map interface, displaying continuous shipment status updates.


Geofencing capabilities to provide shipment proximity-notifications to alert necessary personnel.


Proactive event management notifications, including exception alerts, to efficiently communicate any potential delays to your organization.


Automated proof of pick-up and proof of delivery system notifications.


Readily available photo verification of shipments picking up and delivering.


And much more.