When you're an Organ Procurement Organization (OPO), the consequences of a delayed or failed time-critical delivery can be the difference between life and death. In Airspace's latest white paper, we detail the shocking statistics and various scenarios that can occur when time-critical deliveries, specifically organs for transplant, are mismanaged. One of the biggest causes of delayed shipments is the lack of speed, visibility, and timeliness in the industry today. Here, we will take a closer look at how faster driver dispatch times and transparency assist in the successful deliveries of viable organs for transplant.
The Current Problem
In today's antiquated time-critical shipping industry, the manual process of generating quotes and routes, plus dispatching a driver takes anywhere from 15 to 45 minutes. Total time to deliver a time-critical package, including organs for transplant, takes an average of 90 to 150 minutes. These times do not account for potential errors and common delays, such as traffic or flight cancellations. A 30-minute delay could impact a patient by three hours, so having complete visibility as to where the shipment is and knowing in advance about possible delays is extremely important.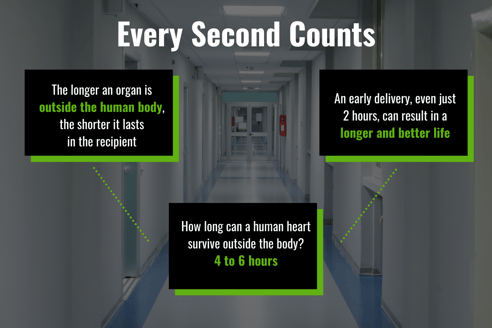 Time is crucial when it comes to transporting organs for transplant, and having a courier service that is reliable and efficient is necessary for successful deliveries. On average, a human heart will only survive outside the human body for four to six hours and every second decreases its viability. The longer it's outside the body, the shorter it will last in the recipient: Delivering an organ to its destination just two hours sooner could mean a patient living longer or having a better quality of life. When delivering time-critical shipments, it's also important to have full visibility of the package's whereabouts to ensure a successful and on-time delivery.
Airspace's Solution to Save Lives
At Airspace, our team and tech works tirelessly to provide the ultimate solution for your time-critical deliveries. Our patented technology automatically dispatches drivers, which not only saves time but our technology pairs the optimal driver with each shipment. Airspace's proprietary machine learning considers a driver's location, distance to the pickup address, specific vehicle regulations, and the driver's certifications. This is a huge advantage for the customer because it means a driver who is more efficient at a particular site will be dispatched. On average, our platform can generate a route and quote and dispatch a driver within 9 minutes or less. Plus, our overall delivery time is approximately 45 minutes -- that's half the time it takes for a manual process to complete a delivery!
Organs for transplant specifically rely on fast shipping and effective communication in order to remain viable and make it to the desired destination. What seems like a minor delay can make a huge impact on someone's life, and we take that into consideration with every shipment we touch. We're proud to say that Airspace has saved over 170,000 lives with our patented technology and expedited shipping process.
Learn how we make time-critical shipping safer and download your free white paper today!