Airspace Announces Alex Coates as
President and Chief Financial Officer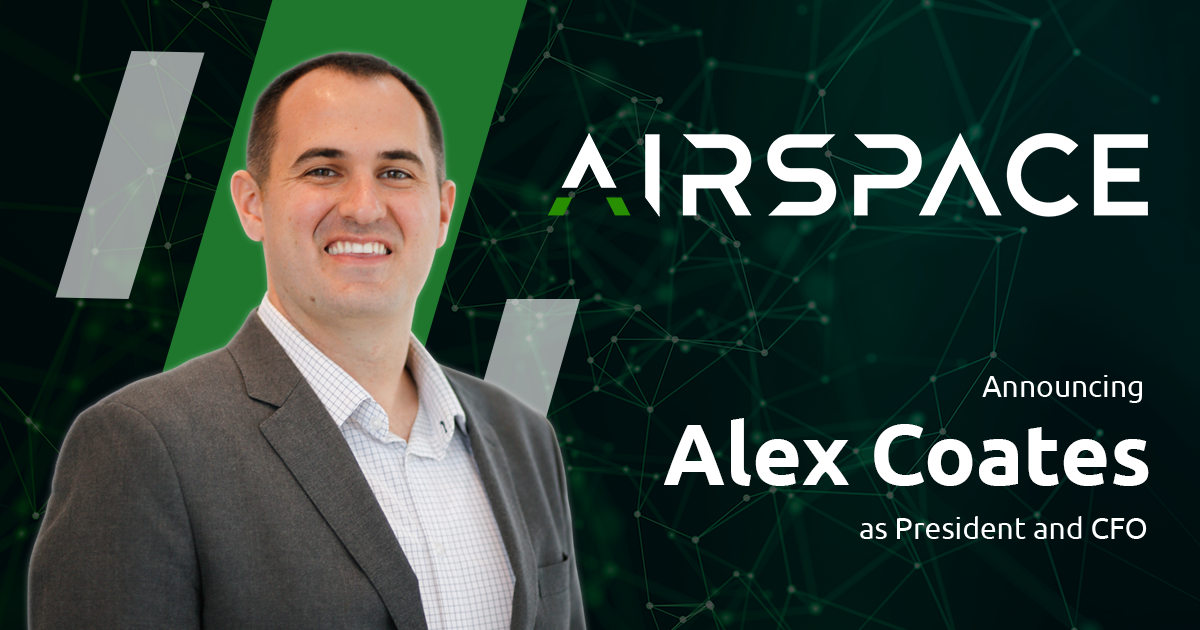 CARLSBAD, Calif., June 28, 2022 – Airspace, a leader in time-critical shipping, has promoted Alex Coates to the position of President & Chief Financial Officer. Coates joined Airspace in 2020 and has served as Chief Financial Officer, overseeing the Company's rapid growth alongside company founders Nick Bulcao and Ryan Rusnak. Coates will continue to manage long-term strategy, financial planning & resourcing, and internal company administrative functions. He will also work actively with investors and the company's Board of Directors.
"I could not be more excited about the future of Airspace and I am proud to take on this new role,'' said Coates. "My primary focus will be on ensuring that Airspace's culture and values, which have made us who we are today, remain the foundation of the business. I want to empower our world-class team with the resources, tools, and processes we need to continue to redefine what is possible in Time-Critical Logistics.'
Since 2020, revenue at the company has more than tripled. To fuel that tremendous growth, Coates has spearheaded long-term growth strategy and fundraising for Airspace, including its most recent $70 million funding round, led by DBL Partners. The round provides the company with the resources needed to continue expanding across the company's core customer segments of healthcare, aerospace, automotive, manufacturing, and high-tech. It will also enable the company to expand its footprint globally as Airspace continues to add service offerings and new geographies.
Airspace Co-Founder and CEO Nick Bulcao will remain in the role of CEO and active in the company's day-to-day operations. He calls Coates a natural leader, who will focus much of his attention on the 300-plus employees at Airspace and the effort to hire even more. This work is important as Airspace scales up to add more robust service offerings in new and existing global markets.
"I'm excited to see the immediate impact Alex will make at Airspace in this new role as the company grows to serve even more locations around the world,'' said Bulcao. "His previous experience as a leader overseeing strategy in the logistics industry makes him an invaluable resource for the rest of the leadership team."
Airspace Co-Founder and Chief Technology Officer Ryan Rusnak sees Coates as the ultimate advocate for the technology and innovation that helped the company change the time-critical logistics industry.
"Technology is at the core of what we do at Airspace and having a leader that is committed to growing the product to serve our customers is essential.", said Rusnak. "Alex has undoubtedly been a key supporter of new tech initiatives as we continue to experience massive growth. I look forward to the impact he will make in this new role."
Prior to Airspace, Coates served as SVP of Finance and acting CFO at Xos Trucks ($XOS), a leader in last-mile transportation technology. At Xos, he led corporate development & strategy, along with finance and several other internal administrative functions. He began his career at McKinsey & Company with a focus on operations and strategy for transportation clients. He then joined private equity firm HGGC, investing in and leading planning for emerging technology businesses. Alexander Coates holds a degree in Strategy from Brigham Young University.
About Airspace
Based in Carlsbad, Calif., Airspace was founded in 2016 and has grown to be the leading global delivery network for time-critical logistics. The company was recently named to the 2022 CNBC Disruptor 50 list. Airspace makes shipping faster, safer, and more transparent than ever through people, service, and technology. From real-time, data-driven notifications to tracking over 16,000 touchpoints within a shipment, Airspace surfaces more information than any other provider, increasing the velocity and transparency of the supply chain. To learn more about Airspace, please visit www.airspace.com.