Airspace Introduces Time-Critical Freight Service with Instant Quoting
By Jack Winstead, Senior Director of Time-Critical Freight
Since 2016, many Fortune 500 shippers have come to rely on Airspace's tech and service to quickly quote, route, and ship small parcels same-day and next-day. Our mission is to provide that same best-in-class tech and service not just anywhere in the world, but for shipments of any size. In service of our "any size" mission, we have launched Time-Critical Freight with Instant Quoting. This industry-first feature offers what shippers have needed for decades–reliable, instant quotes for same and next-day shipments up to 10,000 lbs.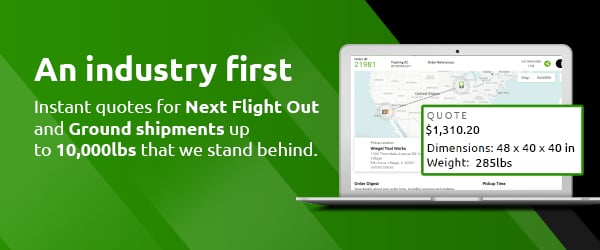 Fast Quoting
When it comes to time-critical shipments, every second counts. On average, competitors provide larger-than-parcel freight quotes and routes in close to an hour. That forces shippers to waste valuable time waiting for the proper routes and trying to compare rates.
When entering orders via Airspace's ASAP Customer Portal, our machine-learning technology instantly generates dozens of routes that you can compare based on your cost and transit time preferences. Our system is so quick and easy, that you will find yourself not needing to even compare quotes across different vendors as you did in the past.
Accurate Routes
Our proprietary platform identifies the best flight options for the right ground vehicles and aircraft within the continental United States. We are so confident in our routing tech that "what you see is what you pay"1. When you submit orders via the Airspace ASAP customer portal, we honor the quote and route for 5 minutes. If you don't submit your order request in 5 minutes, you simply need to refresh the ASAP Order Confirmation page for a new quote (given how dynamic freight markets are). Our system dispatches the best driver for the job and sends you real-time emails and texts to follow your shipment through every step on its way to final delivery. This up-to-the-second reporting provides the peace of mind that no other vendor can offer for time-critical, palletized freight.
World-Class Service
Shipments over 100lbs need unique vehicles, equipment, and routes. My team and I have the expertise to give our customers this special treatment. Our Time-Critical Freight team is made up of logistics industry veterans and just like Airspace Operations, we are a 24/7/365 operation. Our relationships give us access to a dense network of 30,000+ drivers and 2,500+ commercial aircraft nationwide that our system and operators monitor from door to door on every one of our customers' shipments.
Click here to learn more about Time-Critical Freight and schedule a personalized demo.
1 Spot rates are quoted based on weight, dims, origin, destination, pick-up urgency, etc. requested by the customer. Quote and route are subject to change if a customer makes a change request.
---
About Jack Winstead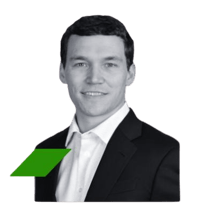 Jack Winstead leads the Time-Critical Freight service line at Airspace. Most recently, Jack came from Uber Freight, holding several positions, including leading spot pricing and economic research. He started his career in management consulting before executing M&A transactions for IBM's corporate development team.
Jack has been a featured speaker for FreightWaves and at various other industry conferences. He has an MBA from the Wharton School and an MA in International Studies from the Lauder Institute at the University of Pennsylvania.

---
About Airspace
Based in Carlsbad, Calif., Airspace was founded in 2016 and has grown to be the leading global delivery network for time-critical logistics. The company was recently named to the 2022 CNBC Disruptor 50 list. Airspace makes shipping faster, safer, and more transparent than ever through people, service, and technology. From real-time, data-driven notifications to tracking over 16,000 touchpoints within a shipment, Airspace surfaces more information than any other provider, increasing the velocity and transparency of the supply chain. To learn more about Airspace, please visit www.airspace.com.